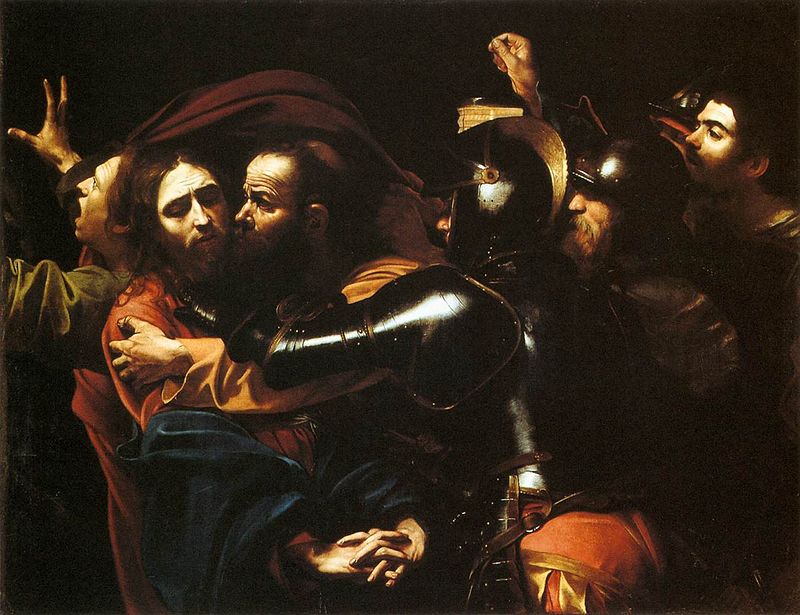 Caravaggio, The Taking of Christ (1602) oil on canvas (52.6 in × 66.7 in) National Gallery of Ireland, Dublin
Owing to my concentration on book length projects of late it has been a while since I have done a book review. I read about two books a month on a variety of subjects and I have something to say about most of them. But occasionally–and something I like to have happen—a book will cross over to an experience or another subject that interests me and I have top stop what I am, doing and get into that existential connection. One of my favorite topics is art, particularly historical stuff about forgery, provenance, and lost or "missing" paintings and artifacts.*
My first encounter with Michelangelo Merisi di Caravaggio was accidental. Some years ago in the shadeless Piazza del Popolo I needed to access a restroom. I was at the foot of the obelisk at the center of the piazza was where I usually commenced my several-hour walking tour of the city with the participants in my summer European "study tours." The Church of Santa Maria del Popolo was directly behind me, near the ancient Flaminian Gate; I would try there. My restroom search led me to the Cerasi Chapel in the church in which, to my surprise, hung the painting, "The Conversion of St. Paul on the Road to Damascus," one of the masterpieces by Rome's star "bad boy" painter of the Baroque, Caravaggio. (Caravaggio's "Crucifixion of St Peter" faces it on the opposite wall, so the two founders of Christianity are represented.) It seemed a rather vulnerable location for such important paintings; but then this is Italy and art and history are everywhere and the national authorities charged with their security are woefully understaffed. No one else was in the chapel at that time and it also seemed to me that an enterprising art thief with a sharp blade might easily walk off with a masterpiece worth millions. But I needed to attend to a different urgency.
Such was my inauguration to being a sort of "Caravaggisto."** Since then I have studied up on the painter, reading a few books and bio stuff on him and the Rome of his times. So when this story of a "lost" Caravaggio, The Taking of Christ, became available I jumped on it. Stories of lost paintings can be like thrillers and murder mysteries and this one has a little of both; there is fame, money and often skullduggery along with to some science and technology, involved to keep "plots" boiling.
In addition to Caravaggio this book is about three other Italians: intrepid art historians and sleuths Francesca Cappelletti and Laura Testa, and art restorer Sergio Benedetti. In one sense the "lost" Cravaggio was not lost. There were at least a dozen copies of the painting and one version of The Taking of Christ in Odessa that might have been painted by Caravaggio himself and some Caravaggisti regarded as the original. This is the episode in the life of Christ in which he is "betrayed" by the kiss of Judas and is apprehended by Roman soldiers who, in this case, look very much like 7th Century Roman soldiers. The lighting is typical Caravaggio chiaroscuro, with the figures seeming to emerge from a lake of black oil to catch their illumination from a single off-frame source. (Although the artist also provides one internal source, a lantern held by the figure that is Caravaggio himself.) Christ seems serenely resigned and Judas appears to have been based on the artist's landllord or local grocer (Caravaggio painted directly from models).
But all of that was buried somewhere, obscured by Caravaggio's picaresque life, and the hazy provenance of his painting. By the late 18th century, the painting seems to have disappeared, and its whereabouts remained a mystery for about 200 years. The trail leads from a palazzo of the Roman Mattei family, where the painting was originally commissioned. Cappellitti and Testa picked up a sniff of the painting from payment records in an ancient a ledger in the archives of the Mattei family, moldering in the cellar of a palazzo in the small town of Recanati. Bujt we also learn some other interesting things about famous paintings. For example, sometime during the time the painting (if this was the original) was with the Mattei its authorship got changed to it being a work by a Dutch painter named Honthorst, who painted "in the style of Caravaggio."
Is this because the painting was sold in 1802, to William Hamilton Nisbet, who took it to his home in Scotland and hung it there for ninety years before he sold it to an Irish pediatrician, Marie Lea-Wilson, who in a debt of gratitude, eventually donated it in the 1930s to the Jesuit Fathers in Dublin. The Honthorst attribution stayed with the painting, which probably came about to reduce the value of the painting when the taxes were assessed for the license to remove the painting from Italy. This was made easier by the fact that painters, even the most famous, did not sign their canvasses until a century later. The trail went cold for Cappelletti and Testa.
So now The Taking of Christ hung in the cafeteria of the Jesuits residence house in Dublin darkening with smoke and grease and old varnish like it had been marinated in Guinness. In fact, it was so dark that it was almost missed by Sergio Benedetti, the art restorer for the National Museum who was there to seed about restoring some of the Jebbies' paintings. But Ben Benedetti was a Caravaggisto and something caught his eye beneath the years of crud on that putative Honthorst.
But first the painting would have to be cleaned and restored and here, if one likes the techie sort of stuff, is an interesting look into the process of restoring paintings that are hundreds of years old, have been bounced around different places, exposed to different temperatures and contaminants, and need treatment akin to delicate surgery. One picks up terms like craquelure, which are the fine cracks that can give that mosaic appearance to old oil paintings from drying out, and the intricacies of relining canvasses and matching old pigments and glues—like reverse engineering an artwork that was created centuries ago. What particularly caught my notice was how this factored into authentication. As noted above, there were many copies of The Taking of Christ, but the way the this one was anointed as the original was in the identification of pentimenti, visible traces of earlier painting beneath the surface of a painting, something that would be very unlikely in a copy.
But if art history isn't enough there is Caravaggio himself, a combination of immense talent and ungovernable violence.*** His was an age in which there was plenty of violence; the Renaissance and the Baroque were times when artists themselves got into brawls and committed homicides. They often carried swords and daggers as well as brushes and easels. Caravaggio unfortunately had a habit roaming about to bocce courts and getting into arguments, one of which, over a prostitute he used a s a model resulted in his fatally cutting a femoral artery of his adversary (a well-known Roman pimp named Ranuccio Tomassoni) with his sword. The artist fled Rome for Naples, then Sicily, then Malta, although he managed to produce more masterpieces while on the run. But one of his enemies caught up with him and sliced up his face.
Appeals were made to Papal authorities for a pardon, which was eventually granted. Unfortunately, Caravaggio was unaware of it and was attempting to sneak back to Rome from the coast when he contracted a fever from traveling through the marshes. He died at Port'Ercole, aged 39, but is immortalized by his art.
____________________________________
©2016, James A. Clapp (UrbisMedia Ltd. Pub. 9.5.2016)
*My recommendations are: John Addington Symonds, The Autobiography of Benveneuto Cellini, Modern Library, N.D.; and Peter Watson, The Caravaggio Conspiracy, Penguin, 1983.
** Caravaggisti are genuine Caravaggio art historians and scholars; I'm just sort of a "junkie."
***Timothy Holme, Vile Florentines, (Cassell, 1980); Lauro Martines, April Blood, (Oxford, 2003)