Trains are my favorite form of transportation. With this piece I am introducing a mini-series of stories of my various experiences on trains over the years. Nothing like Agatha Christie'sMurder on the Orient Express, but it does include a reverie of two trips I made on that famous train. Some of the stories have been published elsewhere, but some are new, although informed by notes I made many years ago, usually in squiggly script on moving trains. But first, by way of introduction, a little reverie of my first "railroad" encounter, in a bygone station in a bygone time.

New Union Depot, Rochester, New York, ca. 1944-5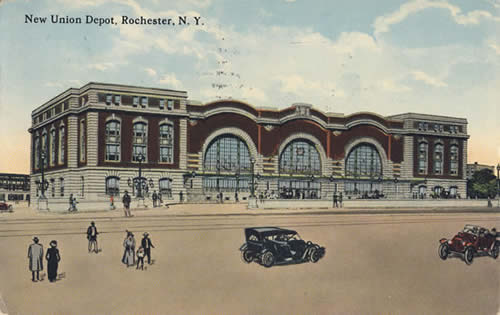 I must have been around four or five years old the first time I recall going to a train station. It was the central station in downtown Rochester New York, built in the 1903 to the design of renowned architectb Claude Fayette Bragdon, and my memory pulls up grand, soaring stone vaulted ceilings finished in herring-bone tiles defined by Renaissance arches above a huge waiting room with solid pew like seats. I can conjure a large ornate clock hanging down, or perhaps on one of the walls. But strangely, my auditory memory is the clearest; the sound of the announcements of arrivals and departures reverberating off those glazed surfaces, amplified by the vaults, and the hushed shuffling of feet of waves of travelers across the terrazzo floor. I was amazed by it all, and should have been as it was at one time regarded as among the seven most beautiful train stations in America. I did not know that then, but I knew it was a place I wanted to return to, sensing even then that it was a place that had some magical connection between where I lived the rest of the world.
The family had gone to the station, I think it was wintertime, to meet one of my uncles who was returning on furlough from either North Africa, or Burma, depending on which uncle. There were men in uniform from the various services and exclamations of delight at reunions that joined the resounding public address announcements in the stony waves of sound. I remember the smell of my uncle's uniform when he picked me up, an amalgam of embedded cigarette smoke in damp wool, and some unidentifiable exotic essence of a faraway place.
I never got to go anywhere from that train station. It was demolished. After the war trains were regarded as something passé, at least for passenger traffic. Airports were the coming thing, along with the state highway program that fit quite well with the automobile and suburbanization that were the two major postwar editions to American urbanization. As in many cities, the grand depots for trains, often in architecture that evoked grand historical periods such as Egyptian, Mogul, Far Eastern, Gothic, Greco-Roman, and such, were left derelict, torn down, turned into some commercial use, replaced by structures unworthy in form for an Orange County mini-mall.
As I grew up I rode subways, trams and trolleys around the city, but didn't get to make that inner-city trip by train until I was in college. It turned out to be an adventure I could never have anticipated.
The Chicagoan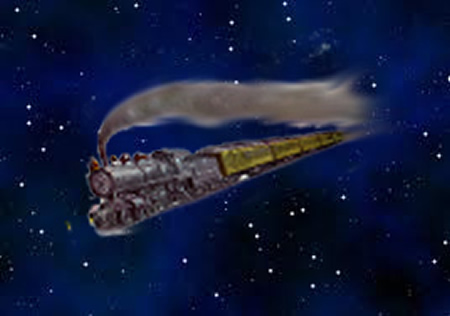 It was a long train that left Grand Central in the morning and arrived in Chicago in the afternoon the following day. The Chicagoan, as it was called in 1961, would be my first long-distance train ride. It would also be Patty's.
We were not yet engaged to be married, and it took some fast talking on my part to convince her parents that this excursion to two states away for a weekend would be conducted with the necessary assurances. Both Patty and I had taken a sociology course at Le Moyne from a professor who subsequently transferred to Notre Dame where he had done his graduate work. He had taking a liking to us––more to Patty I think––and invited us to South Bend to attend Notre Dame versus Navy football game at the time when Navy featured star quarterback by the name of Roger Staubach. He would host us, buying our tickets, escorting us to pregame functions on campus, and putting us up in separate bedrooms at his home. That we were going to Notre Dame and being chaperoned by a professor seemed to allay the concerns of Patty's parents. I booked two seats on the Chicagoan.
The train would arrive somewhere around 1 AM at the mean little barn of a station on the outskirts of Syracuse that had replaced its earlier central station. We were there with our luggage about an hour before. The surrealism of the evening seemed to begin when Patty asked if I could get her some orange juice from the refreshments bar. I was on my way there when the power went out in the entire station pitching it into an inky, disorienting darkness. Foolishly, I kept moving in the direction of the refreshments bar without realizing that it was actually behind a huge sheet of plate glass. I contacted the glass forcefully with my forehead, saw a few stars, and then realized that the wavy sound, almost like what a handsaw makes, was a huge window that was about to explode into thousands of pieces of silicate shrapnel that would butcher me like a helicopter rotor. I heard some "ooohs" from some other passengers who must've surmised my plight even in the darkness and I crouched, put my head in my hands, but don't remember whether I uttered a prayer or an expletive.
I heard Patty call my name in a worried voice, but I just waited as the whooshing sound of the plate-glass began to subside, fearing that even an answer might add the shattering degree of vibration. Patty didn't mind that I stumbled back to the waiting seat without her orange juice.
The power never came back on and we sat in darkness until our train was called and we were urged to make our way carefully to the platform where we were steered about by the conductors by flashlights. And so the train pulled in with an eerie aspect of light flowing out of its windows like some passing picture show. But when we boarded and entered the car we were dumbstruck. Anyone who has seen some episodes of The Twilight Zone (and we had) would have wondered if they had crossed into some bizarre Serling-esque landscape.
There before us was a vibrant tableau of people in strange costume, babbling in a strange language, men and women, young and old, women wearing kerchiefs, women breast-feeding babies, men swigging wine from label-less bottles and clouding the atmosphere with the smoke of their pipes and cheroots. The racks overflowed with luggage, much of it just sacks and boxes stuffed with belongings. Sausages hung from the racks, and there was the smell of olives, and strong cheese, mixed in with the sounds of laughter, babble and crying babies and even balalaika music. They hardly took notice of us.
"Christ," I exclaimed to Patty, "somehow we have been transported from that blacked-out station to a village in the Caucuses, or Anatolia. Where the fuck are we?" My language wouldn't have mattered; they wouldn't have understood. I knew that when we made our way, hauling our luggage over the obstructions of boxes and bags and kids in the aisle to our seats which were occupied by a sleeping baby and a boy of about age four. Calling out for assistance didn't seem to arouse any parentage so I showed my tickets in front of the faces of several people in the immediate vicinity and pointing back to our seats. Finally, a woman was returning from a restroom or having a smoke between cars, saw us standing there, surmised what was up, apologized (I think), rousted the two kids and relocated them to the laps of relatives.
Gone was our plan to sleep to the gentle rocking of the railcar through the night. When a conductor finally appeared and stumbled his way down to our seats to check our tickets he explained some of the realism behind the surrealism. Our fellow passengers had disembarked from a passenger ship in New York and were immediately transferred to the Chicagoan. It turned out that they were Greek immigrants, so I was thankful that I didn't know any Turkish with which to greet them. They were destined, as we soon discovered, to be additions to Greco-American enclaves in cities spread along the line from Buffalo to Chicago and beyond. Unfortunately, they had slept from New York up to about Utica, at which point they awakened rested, ready to sate their appetites and nicotine addictions. We were trapped in their circadian zone.
As with all things that don't turn out the way we anticipate or plan in our travels one needs to make, as they say, lemonade. This was an adventure we could never have imagined. Patty and I were, as it happened, the first real Americans with whom they had any sustained contact. It was this young bleary-eyed couple, one of whom was nearly obliterated shortly before by a monstrous, wavering plate glass window in the pitch black of the train station, that provided them an opportunity to try out some English vocabulary and phrases. Soon we were being interrogated by the few we spoke enough English to formulate questions, and our responses were requited with offerings of bread, wine, cheese, Kalamata olives and strong, aromatic tobaccos. They offered their goodbyes as the car thinned out along our route and we wondered how they would fare in their new land, especially when they encountered their first Great Lakes winter.
It would be 1977 before I would first get to Greece, and follow that with Patty and the girls in 1979. But in some sense I felt I had been there already, or at least in a small village that rocked along the tracks of the New York Central Railroad back in 1961, somewhere, as Rod Serling would say, "in the twilight zone."
____________________________________________________________
© 2012, James A. Clapp (UrbisMedia Ltd. Pub. 5.16.2012)