I have looked at the old photograph many times over the years, always focusing in on my father's older brother, Pat, the one holding the violin case in this picture of several musicians boarding a C-47 from an unspecified airfield on an unknown date sometime during World War II. Uncle Pat was a bit of mysterious person in my family, chiefly because, at least in my memory, he was almost always away somewhere. Maybe that's why I focused in on him so intently.
Uncle Pat was a child prodigy violinist in my father's musically-blessed family. In his teens he played on the same bill with renowned singer Lily Pons. My father played piano, but only to supplement his income as a lithographer; the professional musician's life was not for him. It was for uncle Pat, who aptly changed his name from Clapp to Cleff to suit his profession. It was a profession that resulted in a number of unannounced intermittent, appearances. A particularly memorable one was in the middle of the night when I was a young kid in which he arrived with the Nat Cole trio (before Cole left his excellent piano playing for the vocals that brought him big fame.) They were in route from one night club date to another.

But my earliest recollections of Uncle Pat are his appearances on furlough during the war. He shows up in some family 8mm films, typically joking, teasing the kids and engaging in other humorous antics*; he had a wickedly wry sense humor as a recall even in his later years. Uncle Pat fought his war as a violinist in the Army Air Force Orchestra (not Band). He liked to tell the story of when he was rooming with Henry Mancini, the pianist for the orchestra; that he should have listened to anything Mancini might have been humming in his sleep and Uncle Pat's name might be on Days of Wine and Roses and Moon River. He always had jokes, too, and my father always laughed the hardest. He was my father's only brother, eight years older, in a brood that included five older sisters.

Back to the photo. So I scanned the picture, dropped it into PhotoShop, and blew it up. It was then that I saw a face that looked familiar. Not Mancini's; none of the faces looked like him. But the guy at the end of the line looked to me like bandleader Glenn Miller. So I Googled Miller for some photos and came up with this comparison. Same hairline and forehead, same mouth and jaw, same glasses, even the same folded arms. It's him.**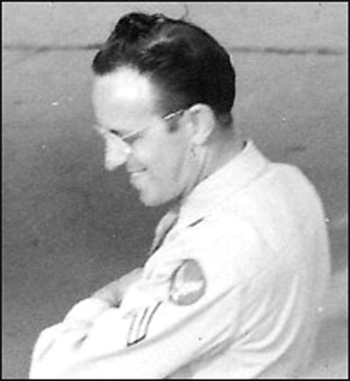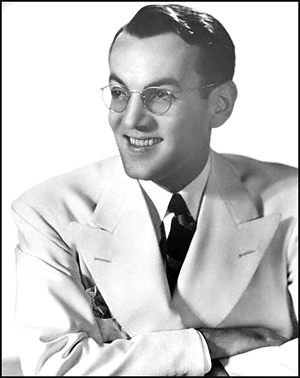 Miller joined the Army Air Force Band in 1942 at age 38 and formed the orchestra. So this photo was at least taken before December 15, 1944, which is when Miller disappeared when he was being flown from London to Paris (to play for the liberation troops) in a U.S. Army Air Force UC-64, a single-engine plane. Neither he, nor the plane, were ever seen again (he is still listed "MIA").

The strange thing is that I don't remember Uncle Pat ever mentioning having flown with Miller during the war. After the war my uncle had a curious musical career. He formed some bands of his own, briefly had a radio show, toured with the Vaughn Monroe orchestra, even had a novelty comedy act in which e broke old violins that had spring-loaded fruit fly out of them.
As I said, he was a funny guy. Eventually big bands and the night clubs were killed by television and Uncle Pat ended up playing jazz violin in small clubs. 
Ironically, in his later years, sadly after a couple of failed marriages and too much drinking had taken a toll on him, he was playing at a club a few blocks away from where his nephew was playing on summer weekends. I was accompanying my pianist friend, Milo, on double bass at a bar near the School for the Deaf (so a lot of patrons couldn't hear how badly I played, but could appreciate the bass vibrations). When we finished around 1AM Milo and I would sometimes meet Uncle Pat for a burger and he would regale us with stories of the big band days and all the famous jazz musicians he had known. I especially remember the one where he was playing for a party of MAFIA guys in Chicago and a guy put a gun to his head when he began packing his violin to leave at the contracted hour. He kept right on playing until morning, but a lot of notes were "in the cracks," as he put it.

The last frames of my choppy film reverie of Uncle Pat are tinged with melancholy. He worked has last years at the horse track and seemed to do more drinking than playing. We saw less and less of him and while he was still funny, there was a sadness in him of someone left in a time that had gone by. It wasn't a career of much renown; he was more a "spear carrier" in the life stories of other, more famous musicians. But having scrutinized that mysterious photo of the C-47 at least I take pleasure in knowing that at some point after that plane landed the fates of Uncle Pat and Glen Miller parted ways. Otherwise, my own life would have had a lot fewer laughs in it.
____________________________________________________________
© 2009, James A. Clapp (UrbisMedia Ltd. Pub. 12.27.2009)


* There was a prank he liked to pull on us kids that I adopted to pull on my kids and grandkids. He would ask for a hair from one of our heads, saying he could make it stand on its end. Then he would pour a little puddle of water on the table and put the hair in it. He would start saying some gibberish. Nothing would happen of course, but he would entreat us kids to get our faces down at table level and close to the puddle to see better. Then he would suddenly slap his palm into the puddle, splashing us all with water and saying, "Darn, it never seems to wok anymore!" We kids laughed right along with him.

**He was also tall, as you can see in the photo, which is probably one reason Jimmy Stewart was cast to play him the movie about his life. The Glenn Miller Story (1954), Universal Pictures.