No, I don't mean in the Orwellian sense; I mean, more prosaically, down the stairs and out the door. My point of view here is less existential (although not entirely so) and more spatial. It is about that fundamental component of the urban fabric—the neighborhood. It is a minor exposition of the subject from the perspective of living experiences in two of my favorite cities: Paris and Hong Kong.
In the true urban neighborhood one typically lives at higher densities (and hence altitude) and enjoys in return—just down the stairs and out the door—the greater accessibility to the necessities and luxuries of the well-appointed land uses of the authentic urban neighborhood. I have lived in a few such places, but two experiences stand out: my tenure in the Gobelin area of Paris's treizième, where I lived in a little street, and maybe even the same building, that was the home of Ho Chi Minh. (Oui, c'est vrai; a street called Villa de Gobelin. That probably explains to some of my friends my leftist politics.) I was teaching at the University of Paris at the time, a post that allowed me plenty of time to be a flaneur in the neighborhoods of the city.

The other experience has been several stays in an area of Hong Kong called Sheung Wan, hard by the Central district of the city, but a true indigenous Chinese neighborhood (albeit one in danger of being gentrified out of existence). Dr. Sun Yat-sen, the father of the Chinese republic once lived on the edge of this neighborhood, not that a good neighborhood requires such a political pedigree (although I can't help but mention that I spent some childhood years riding my tricycle past the door of the house of suffragette Susan B. Anthony in Rochester, New York, less than a dozen doors from where I lived. Does that explain my feminism?)

There are some common elements to these two experiences, language being one of them. I spoke enough French in Paris to be able to "get by" in the neighborhood. In Hong Kong I have a very limited vocabulary of Cantonese, but then there is the colonial residue of English that is spoken by some Chinese residents, so the communication quotient is about even in both places. But the similarities that make a true neighborhood transcend language and other aspects of culture; they relate to land use location and arrangement.

Paris

My studio was so small I could take the coffee from the hot plate without getting out of bed. To sit on the toilet required sliding one of my legs under the sink. The flat has a "balcony," but it was only eighteen inched wide, more for appearance than functionality (good for underwear dying though). My desk and dinner table were the same small piece of furniture.

I bring this up because, often, this cramped existence is commonplace in older cities. Hence, the ameiliorating features of the immediate neighborhood become of greater importance. Sidewalks, piazzas, cafés and markets come to serve as public spaces of convivial encounter, substituting as parlors and living rooms, the city becomes an extension of the home. At the bottom of my building in Villa de Gobelin, at its corner with the Boulevard de Gobelin is a café–tabac where I can grab a quick café espress at the comptoir. A few feet away is a journeauxstand that sells my International Herald Tribune and the thick PariScope that lists all the films playing in Paris for the month. A dash across the street to the patisserie-boulangerie and I can obtain a fresh baguette and a croissant d'almond. The market is less than a bundred yards in one direction, with a laverie next door, and the bureau de poste is the same distance in the other. There are movie theaters, stationary stores and libraries (book shops) and a couple of banks all along the street that are interspersed with brasseries and various other cafes and restaurants. A taxi stand is right at my corner, as is a bus stop, and the Gobelin Metro station is two blocks north, making all Paris accessible with my Carte Orange, a monthly pass to the Metro and buses.

This might not be everyone's idea of ideal urban living, but the cramped space of a studio flat excepted, it is mine—a local neighborhood of many indigenous land uses at neighborhood scale (not Wal Mart and Costco scale), with variety and the possibility of familiarity. Every shopkeeper might not be smiling and solicitous, but even in a place that can be as fussy and unforgiving as Paris, there comes, after some time and repetition, some reserved recognition that you are "of the neighborhood." You are still the etranger, but this urban context is as close as one gets to being not a traveler, but a guest. Then comes one day when some other "stranger," from Lyons, or Rheims or Bordeaux, asks you as you are abroad in the "hood":"Excusez moi, monsieur, ou est la mairie?" And you reply in French that makes them wonder where the hell they are; but with confidence and correctness, directing them to the town hall like somebody who knows the neighborhood.
Hong Kong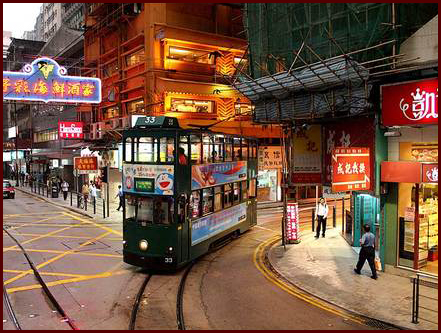 My most recent tenure in Hong Kong made me more acutely aware of the benefits of spatial compression of the urban neighborhood. Limping from a recent accident on my moped in San Diego, the distances between things was of more than usual concern. But here, again, a proximity of the daily necessities of urban life. My flat is again munchkin-sized (about 500 sq. ft.), but quite serviceable because immediately downstairs and out the door are my most immediately needed land uses. One block to the left is the Pacific Coffee café that serves as an "office" when I need to meet with someone. A block in the other direction is the Hong Kong idea of a supermarket, something quite smaller than we are used to (even the carts are miniaturized) and on two floors. My bank is a block further on and the Post Office one more, beside a plaza where old people who have shopped at the adjacent public market and community service building congregate. If I turn left in leaving my building, I can, by means of a pedestrian crossover reach a small park beside the harbor, ideal for reading and watching the harbor traffic. All of this is within the orbit of a couple of football fields.

A special feature of my Hong Kong neighborhood there are some narrow lanes choked with little booths that comprise the equivalent of the venerable, but now extinct, Five and Dime store of yesteryear. All sorts of necessary little sundries and gadgets—you name it, lights, locks, batteries, power strips, nuts and bolts, sewing materials, housewares and underwear, shoes and sandals, baskets and bags—and you can have business cards printed, cops made, you name, they got it or can get it in minutes. It is a compressed bazaar of shops crammed into booths not much larger than a London phone box and usually operated by an elderly Chinese who is often engaged in a steady stream of indecipherable Cantonese banter with his neighbors. One day I take my watch to the repairman who probably has occupied the corner spot for decades. I mime that it has lost the little pin that fixes the band to the watch and he reaches for a greasy little box with a bizzillion of the pins, extracts the exact one and has the repair done in a flash. He makes a cross with his two index fingers—Chinese sign language that makes the cross character for the number 10—and I hand him 10 Hong Kong bucks (US$1.13) and I'm a happy customer. I am also a happy urbanist who has had an experience that extends deep into the urban past, to when all such businesses were indigenous, no corporate, to where there were districts in cities where you could find dozens of like and allied businesses—the Grand Bazaar in Istanbul has over five thousand—that cater to nearly every need. A couple of streets further on I encounter a curious little shop of sundries that, lo and behold, happens to sell replacement rubber tips of the sort that has just worn out on the umbrella I am using as a cane. Where else, but in such a neighborhood.

From the street of my building I can catch numerous buses, a taxi at he stand a block away, the MTR (underground) a block the other way, or a tram next to that. All Hong Kong and Kowloon are transit accessible just outside my door—and the jetfoil ferries to Macau and Zhuhai in China are across the street.
Foreign travel requires more alert senses. Just to plan a trip across town demands a look at the map, checking to where the bus or subway stops are, gauging time and distance. What if you might need a lavatory, or to change money? Did you pack your map and your dictionary? One must always be on the alert for the unfamiliar, even the dangerous. But living abroad especially in neighborhoods such as these, is a different experience, one in which there is a partial, but satisfying, even comforting, integration into the city, and with it the ease of familiarity. One begins, unconsciously to use possessive adjectives—my neighborhood. Indeed, these places did, in a sense, become my neighborhoods; I could tell you right where you can get a fresh croissant d'almond, or a rubber tip for your umbrella. And you won't have to walk very far to get either.
____________________________________________________________
© 2009, James A. Clapp (UrbisMedia Ltd. Pub. 3.18.2009)