I have to be right up front about this:   I don't like Las Vegas.   Gambling, prostitution, and glitz-schlock, over-priced entertainers like Liberace (yes, I know he's dead), Wayne Newton, or the guy who was nearly eaten by his own tiger, are not my thing.   Not that I want Las Vegas banned or razed, or anything like that.   I just don't like it, or what it stands for (or what I think it stands for).   And not that I have ever set foot in Las Vegas; my sole direct experience has been a recent torturous ride down the venerable "Strip," and then not even at night.   Total Las Vegas time:   less than one hour.   Total Las Vegas losses: around 1.2 gallons of gas.   I still don't like it.
At the same time I have to hand it to Bugsy Segal; the mobster had a knack for understanding human nature that is the envy of social scientists like myself.   He sized up Americans and knew that if you made them feel they were important by surrounding them with a glitzy licentious world set off away from the normal sanctions, that, however false, you could separate them from their money and make them feel like they were getting something for it.   Barnum had the same idea about American suckers, but at least he gave them something that, however bizarre, was real.   Maybe that's why I retired on a professor's pension and not as the operator of some casino that puts up Saudi sheiks in palatial rooms and then reams them for the equivalent of the GDP of a medium-sized developed nation.   Then, too, Bugsy didn't end up all that well-off either.
These days, along with the rich crowd that arrives on the private jets parked at the edge of the strip, there is the Las Vegas for the rest of us.   Kids are the new interest; bring 'em along, they can frolic on the rides, and play the penny slots that will hook them for later on.   Then there's the cultural offerings.   Those suckers promenading the Strip, buying cheap T-shirts, and making their way past the pimps selling "strippers in your room" can now edify themselves with a visit to the Bellagio's   Renaissance-themed hotel casino that features, reputedly, fine art by the masters ("Hey honey, I just got a jackpot with 3 Caravaggios on the quarter slot machine!").   Yup. No need to go all the way to the Uffizzi, or the Louvre, you can get you art education right here in a casino.   ("Hi, I'm your docent, Vikki.   I want to point out to you that the boobs on the Virgin Mary in this 'Annunciation' by Da Vinci are quite a bit smaller than mine.   And just check out the cute 'thingy' on this 'David' by Michelangelo.")
See, you don't have to travel to those old, musty, museums.   In fact, you don't have to travel anywhere.   It's all here, right in this tawdry town in the desert.   Never mind seeing the pyramids at Giza; one of them has been moved to Luxor, right on the strip, with a full-sized Sphynx in the bargain.   No luck at the pharaoh's slots?   Try the ones in Paris (no surly French waiters to deal with here), the one with the faux Eiffel Tower; or head over a block to Venice, and ride your way to the slots in a fake gondola, on a fake canal, into a fake Palazzo Ducale.   No need to risk a terror alert if you head for the ersatz phony skyline at New York, New York, complete with a rollercoaster in front.   Well, you get Bugsy's idea: a theme park for the gullible, a nice "legit" front to fleece the suckers.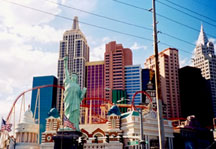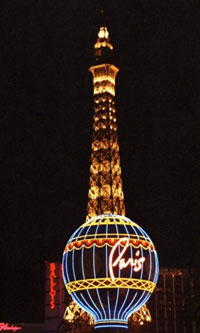 It's all right here, for you
So why should I object to all these people having a good time handing over their money to mobsters and pimps?   I don't.   It's a free country, and there is no place freer in it that Las Vegas.   Anything goes there.    And, as an urbanist*, I recognize that many cities have always had a district or precinct where people could satiate their less noble impulses and their vices.   It's as old as cities themselves.   So if cities can have erogenous zones, why not one for the whole nation?
What I do object to is the metastasis of Las Vegas, to its insinuation into every state and city, into the malls, and mails and into the Internet.   It is a corrupting rot that has installed itself into the fabric of our society and weakens it with its siphoning of wealth and its non-productivity, turning over more monetary power to forces that know all to well that, in America, a good business or a good racket trumps all the sanctimonious bullshit about values, and all the disingenuous references to the public interest.
Like I said at the top: I don't like Las Vegas. Let the suckers have their place – as long as it stays where it belongs.
___________________________________
©2004, James A. Clapp (UrbisMedia Ltd. Pub. 8.4.2004)
*My less polemical views on this subject appeared in my article: "'X' Marks the Spot: The Problem of the Erogenous Zone of the American City," Revue Francaise D'Etudes Americaines ,    Vol. 13, No. 36, April 1988.