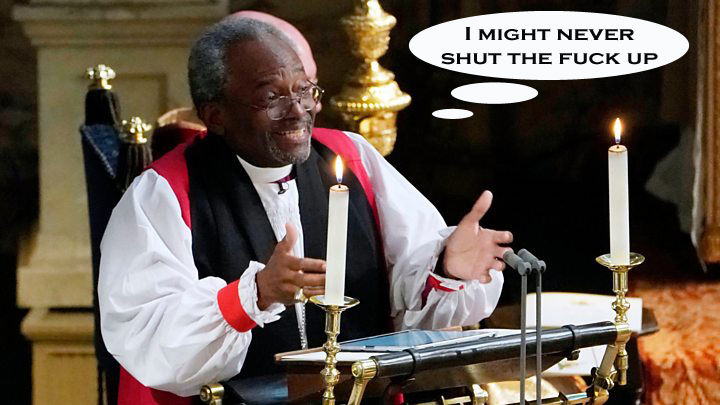 Already on record in these pages as not being a fan of royalty and aristocracy, the inexpensively maintained pets of on the enlightened societies. So, I was not particularly happy when hours of sappy, stupid, unctuous coverage was broadcast by my local NPR station in the early morning of today, the day of the royal wedding of Prince Harry and Megan Markel.
But I did not expect that I would be treated to an example, an egregious example, of my other abiding contempt–organized religion. For that, I had to force myself to endure the seemingly endless sermon of Bishop Michael Curry, a pompous, blowhard, African American Episcopal Bishop from Chicago who tried to steal Harry and Megan's show by treating his over-the-top oration at the wedding like it was an audition for the Elmer Gantry award. Curry's theme was "love," which of course he treated as something that could not exist independent of religious belief. I for one, and I am sure, judging by some of the visual reaction of the Queen and Prince Philip, as well as the Duchess of Cornwall, that I subsequently observed in videos, did not find him either edifying or enlightening, but tedious and egotistical.
Curry of course quoted from the Bible, but also threw in contemporary references to Dr. Martin Luther King, and even tried to be more obscurely impressive with a reference to Jesuit scientist-philosopher Teilhard de Chardin.  A Jesuit reference in Anglican England?  Good thing he wasn't sermonizing at one of Henry VIII's nuptials . . . they would be whetting the old axe for the Bishop's neck. Now that I might like to see.